Five Ways to Create a Romantic Mindset
So, you got married and then what? Did you expect it to be much like it was when you were dating and or engaged? Maybe you were hoping that the person you fell in love with would only become more devoted and passionate once your commitment was cemented. Most of us dream about love that is all-absorbing, taking us to a perfect realm where we can live in perpetual romantic enjoyment. Has your marriage been like that?
Maybe or maybe not. Nothing ever really remains the same. We need to make daily efforts to ensure life will be worth the 1440 minutes we have each day. If you want romance in your life, you will need to be creative and prioritize your love life.
In other words, you will need to think romantically every day. Now, I am a busy girl, and most of you reading this are too. We have so much on our plates each day: caring for children, pets, going to work, doing household chores, juggling finances, and much more. So where is that "thinking romantically" going to fit in?
Here are 5 ways you might try to bring that romantic thinking back.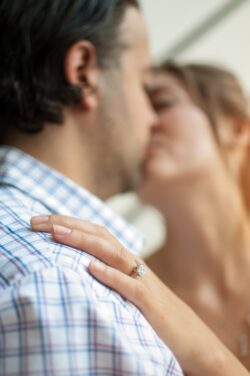 First, you need to have the mindset for it. Think about a romantic time you had with your partner. Make it a visual: see it and remember it. Where was it and what did you do? Do you have pictures of the time and place? Get them out and share them. What made everything that happened seem so intense and special? How did you know you and your loved one were destined to be together?
Take a look in the mirror. Do you like what you see? Are you wearing a t-shirt and old jeans or maybe just lounging around in some comfortable clothes that you change into each day when you return home from work? Does your spouse see you in the same sweatpants every day? What about your hair and nails? Do you take as much time putting on make-up as when you were dating? What number from 1 to 10 do you score for appearance? Being romantic means feeling it first. Taking care of yourself and looking your best is an important way to cultivate the sense of anticipation and desire that made falling in love feel so good.
By the way—you guys can also take a look in the mirror. Maybe you used to keep your hair cut and your nails trimmed. How is your grooming these days? Maybe you were a few pounds thinner and now that belly is a bit rounder. Did you used to use cologne and pop a breath mint in your mouth before taking her in your arms? How long has it been since you thought about sending her the same signals that you sent when you first ached to be with her? All of this helps create a romantic mindset.
Carve out time each day for a small romantic interlude. It doesn't have to be two hours. Modern life is often uncomfortably busy. But maybe after the kids go to sleep, or early in the morning before the kids or the dog wake you up, you can find a little time to touch base and remember why you are together. Be creative and tap into fantasies to think romantically. Put away all distractions and be in the moment. A quiet dinner for two works wonders with no shop talk, kid talk, or phones. Share your dreams or hopes and focus on each other. You can even walk the dogs together and use that time to talk about the two of you.
During the day, find a moment to send a loving text or emoji to say, "I'm thinking of you." Or send a voice message to say I Love You. There is nothing better than hearing those words in the middle of a hectic or challenging day. This helps hit the re-set button to what is important in your life. No matter what else is going on, you are building a life together that is based on love, respect, and compatibility.
Finally, here is the final word for thinking romantically: See it! Think it! Do it! In other words, pay attention to your own heart and pay attention to your beloved. Pick up on the details of their emotional process. What helps them to feel really seen and loved? For one person, it could be a card that comes in the mail or a bouquet of flowers, or a tool that they need to finish a hobby. For others, it could be a loving touch and a kind word. Learn their love language and employ it often. Think of yourselves as sublime halves of a greater whole.
It's really that simple. The results will tell you so, but sincerity and consistency are the key.
What ways have you found that make your relationship more romantic? Share them in the comments.
Share to someone you love.