Thinking of getting married to someone with children, and perhaps you are bringing children into the marriage as well?
STOP! Read this first.
Today, blended families are more the rule than the exception. But the divorce rate among second and third marriages is high; and for blended families, second marriages have a divorce rate of 70%. Wouldn't it be prudent to be prepared for your marriage and do some planning before saying I Do?
Oddly enough, some of the main reasons these marriages fail can be due to exes and children. Have you considered how to handle these not-so-small elements of your daily lives together? There are many questions to ask each other, and all are important, but for today I will just list some things that could be helpful at the start. Making some plans now is far better than going ahead and just hoping for the best.
It is important to be organized and prepare a list of things you want to know. Remember there is a lot of information to learn. Prioritize your needs as you ask the questions. Maybe finances are a big concern for you. If so, start there.
Maybe parenting style is a bigger concern. Then choose that as your starting point.
It doesn't matter where you start, just as long as you start to talk about the family you both are about to create.
Let's look at finances. How was money handled in your partner's prior family? Who paid the household bills, or was this task shared? How were gifts for the kids decided upon for holidays? Whose gift-giving practice will prevail, or will you change the dynamic and create a new tradition that is consistent for all the children in the family? Share your money goals with your new spouse, and see if you are on the same page for saving and spending. This is just a start on the type of questions you might ask about finances.
How about parenting styles? Are you permissive but in contrast your spouse is more of a disciplinarian? What limits do you both want to set for the children, and what are your goals for the family? Do you have a chore list for the kids? How will homework be handled? 
Are you good at setting boundaries and following through, or do you cave and give in? How will the two of you incorporate your parenting styles and let the kids know the rules and the limits?
Kids are smart and will challenge you every step of the way. Being consistent and providing a unified front is best so they can't manipulate each of you as easily.  Make sure that the rules apply to your partner's children as well as your own. Blended family children may have mixed feelings about living in a new household and adapting to new relationships. Talk with your partner about how you can both work together to help all the kids adjust to their new shared family. Remember that they are creating bonds with each other that may endure into adulthood.
A blended family does not achieve unity overnight. It takes time, patience, and a willingness to make it happen. Don't get discouraged if it isn't working initially. Keep it going, discuss things often together, and look toward the future with the love you have for each other. Remember these kids have half of your DNA and they're in the middle of growing up. They deserve a chance to settle in and work through their feelings surrounding the changes they are experiencing. Help them, support them, listen to them, and stay focused on the big picture: the family you are creating.
In upcoming blogs, I will address other questions to be asked before tying the knot. Just remember to have these conversations and plans before you take the plunge once again and say I Do.
For more ideas and insight into successfully creating a blended family, see my new book Blended Families: A Recipes For Success available on Amazon in paperback or Kindle version.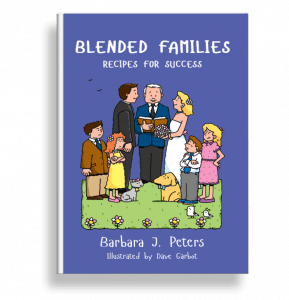 Share to someone you love.